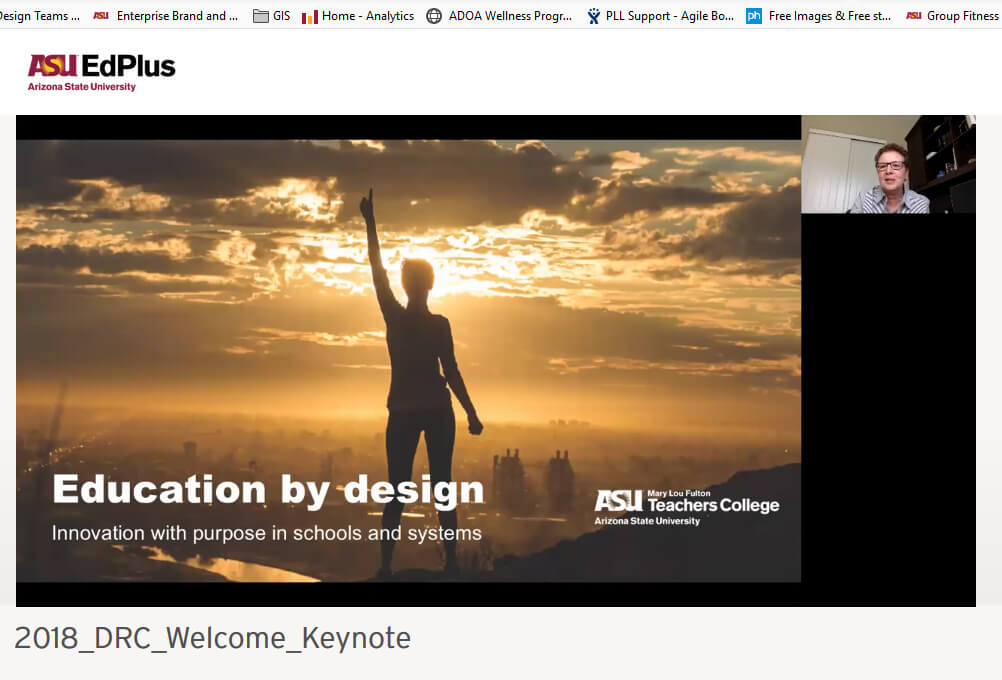 The Technology Initiatives team within OofSI is well-versed in creating complex websites (just take a peek at our projects here). What we had not done, yet, was build a site and a structure to host a web-conference. So we were quite excited when the Leadership and Innovation EdD program reached out to us to help build a site for their doctoral research conference on April 28th.
The doctoral research conference is a day-long virtual conference for all (over 160+) of their students. Dr. Craig Mertler, director of the program, said that this conference, is not only unique to ASU "but it is unlike anything that is done by any other doctoral program in the county.  Students in our program are geographically located in any number of cities, states, nations, and continents – and this forum connects you all as one research community, able to network in one common space and time." It allows doctoral students to share their ongoing research in a professional and academic setting, gives them the opportunity to connect with others, receive feedback, and to provide feedback to other members of the program.
Having never taken on something like this, we knew that organizing a virtual conference of this scope would be time consuming, difficult and daunting. Through multiple rounds of design-consultations with Dr. Mertler and other faculty and staff in the EdD program, the web team conceived of and developed a dynamic website to organize and structure a complex set of small and large group interactions throughout the day. It involved bringing everybody together for a video keynote, then corralling participants into the right breakout sessions, delivering handouts and presentations at the right locations and times –all of this in a user-friendly and seamless manner. For us the task was not just that of building a site but to see the process through till the end. For instance, one team member was available to offer last minute tech support throughout the day, although, as it turned out, none was needed.
Dr. Mertler told us that, "the conference website was fabulous and the team did an incredible job. The conference ran better than what I've seen (including what we experienced first-hand last year) from companies who specialize in this work, AND charge a lot!"
Our OofSI team is thrilled about how well this entire conference played out. Kudos to the Technology initiatives team for taking this on and making it happen.