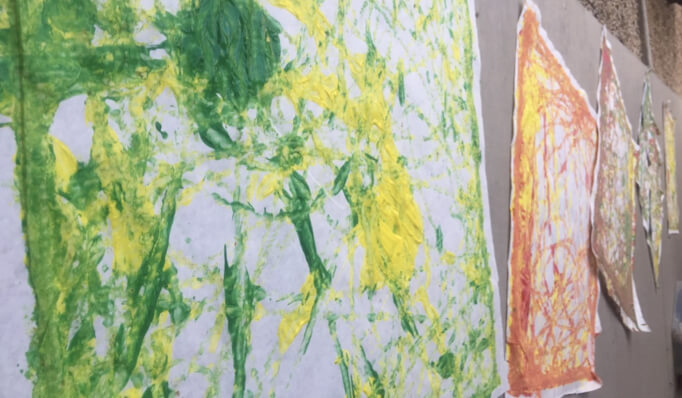 Seeing kids get excited about technology is a uniquely fun experience. While tablets and smartphones are no longer novelties, the same can't be said of robots. Specifically, robots driving through globs of paint—simply put, kids love it. (Who wouldn't?)
Last weekend we showcased the Sphero SPRK+ robot at the Mary Lou Fulton Teachers College tailgate during the ASU Family Weekend to show ways technology can be used in the classroom. Sphero SPRKs are especially cool because they can be used by anyone, no matter their skill level in driving or programming robots.
To demonstrate a creative use of the Spheros, we created an activity to paint on a canvas with the robots. In giant pizza boxes, we put sheets of paper down, poured out some washable paint, and placed the Spheros in the ring. Anyone who wanted to could pick up an iPad and begin painting with the robots. And while many of the adults present were hesitant to try them out, the kids jumped right in.
Children as young as 3 years old can figure out how to use the iPad as a joystick to move the robots around or draw a pattern for the Spheros to follow. From that basic beginning, you can even learn to program them with JavaScript and tell them where to go. Students from kindergarten all the way through university can use Spheros to learn coding, from the simplest to the most complex concepts.
Technology can feel intimidating—it changes so often, you barely have time to grow accustomed to one thing before something new replaces it. It's even more daunting trying to find ways to introduce technology into the classroom. How are we supposed to teach kids about technology when we're still trying to figure it out ourselves? That uncertainty disappears though, when you consider the kids who will be using these new tools, both now and in the future. We don't really know what we're preparing kids for 20 years from now, but by expanding their horizons and giving them the opportunities to try new things, we can only be helping them in the long run.
Sphero SPRKs are one way that we can do that—they have huge potential, and yet they fit right in the palm of your hand. Honestly, though, they're just fun to play with.
If you want to learn more about the Sphero SPRK+, visit the Sphero EDU website.