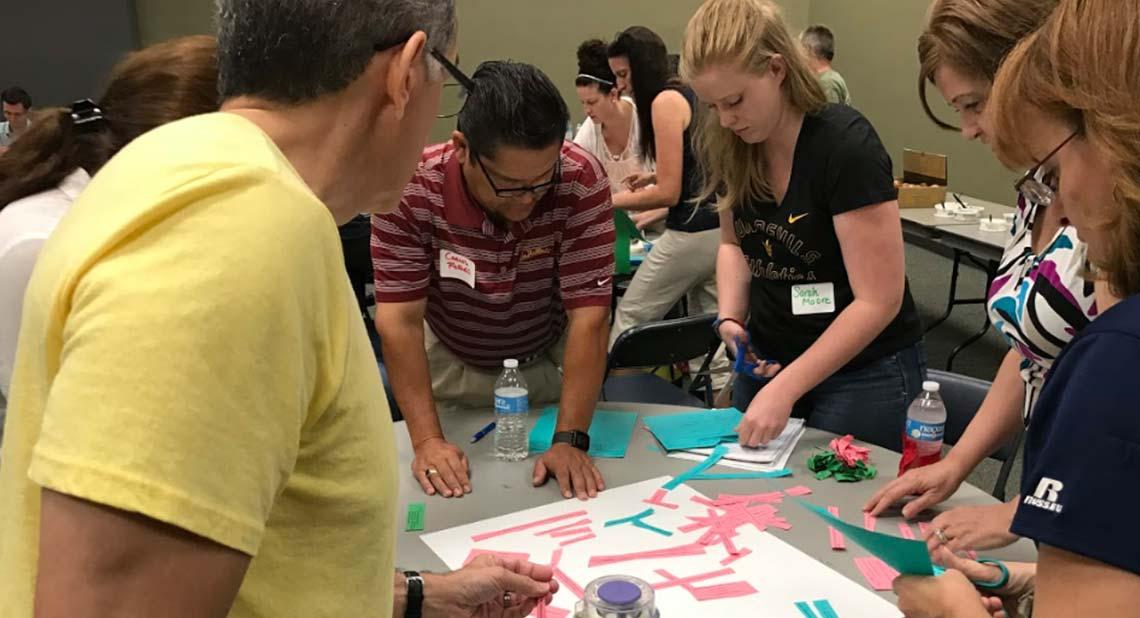 Coronado Success Initiative: excellent adventures, home visits, and non-academic clubs, oh my!
By: Christina Ngo
Design
All I can say is that without these innovative changemakers, we'd be "in danger of flunking most heinously tomorrow." In 1989, Billl (Alex Winter) and Ted (Keanu Reeves) transported themselves to Scottsdale, Arizona… in particular, Coronado HS. Recently, we joined a small cohort of teachers from Coronado High School in Fall 2018 to try something different. Instead of a school-wide initiative, our team worked closely with a group of seven educators/school leaders and guided them through the design process to tackle challenges facing the Coronado HS community.
So, what are they working on?
Non-academic clubs: Dr. Austin Nichols used student survey information he collected from his classes to prototype an A Capella Club and a Gaming Club. Attendance has been steady with ~40 students attending regularly, and he's in the semi-finals for a Super Smash Brothers tournament against CHS students.
Student Government Recruitment: Jordan Johnson is working with Student Government to recruit freshmen and sophomores through an invitation-only lunch mixer. By inviting students who have expressed interest in participation and teacher recommendations, she believes these freshmen and sophomores can become the future leaders of CHS.
Home visits: Carlos Robles is prototyping home visits with students he believes need the extra nudge to succeed at CHS. After completing one visit, he has seen improvement in participation, engagement, attendance, and advocacy.
Math block: Janine Helton is excited to pilot a double-block Algebra class with a group of 25 students who were identified as needing additional support after their first semester. During this double-block, she differentiates her lessons to make them more accessible for her students that need an extra boost.
Community Night + Bill & Ted's Excellent Adventure 30th Anniversary: Zach Zipser, Michelle Halverstadt, and Mark Smith got the okay from CHS administrators to do a film screening of Bill & Ted's Excellent Adventure on February 22nd. This 30th-anniversary celebration will include various clubs, organizations, and the CHS community (past, present, and future). The team is excited to collect CHS stories, share them, and build a warm culture and inclusive CHS community.
To Austin, Carlos, Janine, Jordan, Mark, Michelle, and Zach, party on!