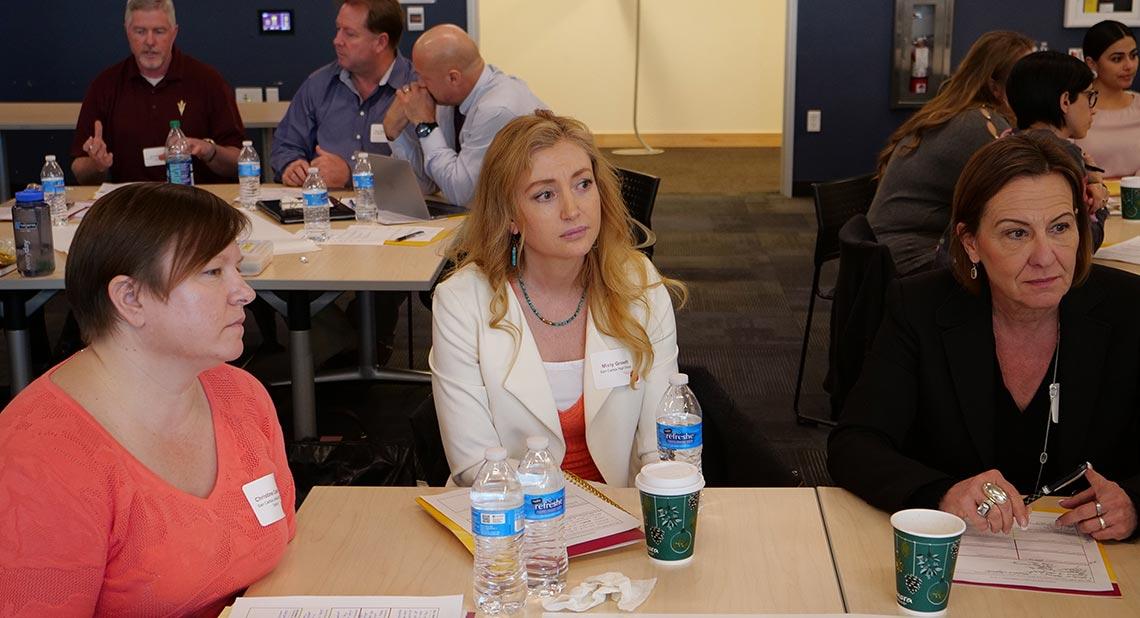 As a Design Fellow with the OofSI Design Initiatives team, I had the opportunity to support a kick-off event for the Arizona Rural Education Collaborative on Friday, January 18th at ASU Skysong. Our office teamed up with Glen Lineberry, Principal of Miami Junior-Senior High School in eastern Arizona, and Brad Mitchell from Battelle for Kids, a Columbus, OH based nonprofit. Together, we led a day filled with thoughtful discussions and relationship-building among a variety of stakeholders. Everyone was eager to tackle the key challenge: that far too many rural students lack the access to the courses and learning experiences they need to be college- and career-ready.
One of the best aspects of the event was the diverse range of people who attended. The room was filled with many different experiences. The group of almost 60 people included K-12 educators (teachers, principals, superintendents); faculty and staff from higher ed institutions like Arizona State University, Northern Arizona University, and community colleges; and people from the nonprofit, private and public sectors, including from the Arizona Department of Education. We were particularly honored that Kathy Hoffman, the newly elected Superintendent of Public Instruction, was able to join. It was truly exciting to see how many different careers and experiences can come together to improve rural education.
The day was a mix of presentations and interactive discussions. Glen shared his vision for a network of rural schools that share resources and course offerings, and Brad gave examples of Rural Collaborative Networks in other states. ASU Prep Digital also had the spotlight to demonstrate their online programs and how they implement innovation for student success.
Our very own Jennifer Stein and Ben Scragg facilitated a part of the day focused on sharing perspectives and experiences related to the need for more high quality courses for rural high school students. The rest of our team had a blast serving, organizing, and documenting. We all were able to learn together and share a meal (a highlight worth noting because who doesn't like food?). Participants were able to move around the room, share their experiences, and work in small groups toward the common goal of improving educational opportunities for rural students.
As a graduate student, I expected to come into the event as a fly on the wall. Every single person in the room had years of career experience, whereas I am only at the beginning of mine. However, I was brought into groups and my voice was heard, because EVERYONE (including me) had something very important in common that I somehow missed: we came together to address student opportunity gaps and challenge the current education system to be more accessible and inclusive of students. By next year, I hope to hear how much progress was made from the previous year and the student outcomes in these rural areas. This event showed me how we all can take action to improve rural education and how different partners from different careers can take responsibility in this mission.