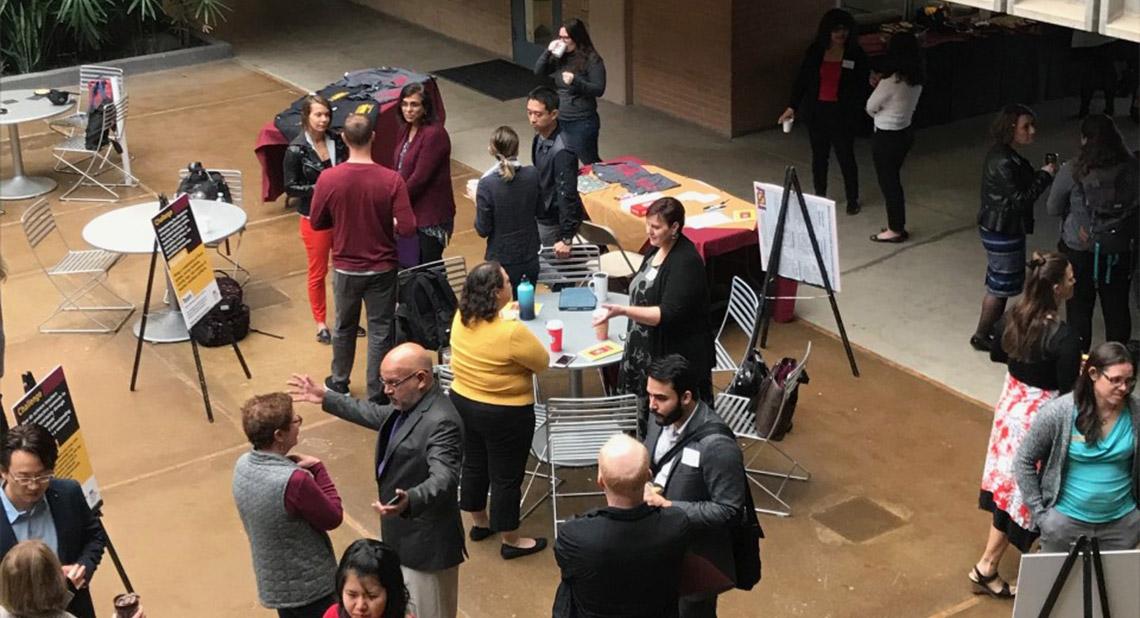 Friday, February 1 was the 5th annual Teachers College Doctoral Council (TCDC) Education Research Conference. This annual event is student-focused and provides many graduate students with their first experience participating in an academic conference.
This year, the Office of Scholarship & Innovation (OofSI) partnered with TCDC, and some of our 2018 MLFTC internal grant recipients kicked off the conference with a poster session to discuss their on-going research projects with graduate students, faculty, and other attendees. Faculty participants included: Kate Anderson, Katie Bernstein, Ying-Chih Chen, Jeongeun Kim, Margarita Pivovarova, Jeanne Powers and Andrea Weinberg. It was a wonderful opportunity for faculty to connect with graduate students and learn about their work and research interests, and vice versa. Following the faculty poster session, the morning was dedicated to graduate student research presented in poster, round-table, and paper sessions.
OofSI was excited to announce the inaugural recipients of the doctoral student research mini-grant opportunity at the conference luncheon:
Stephen Santa-Ramirez (3rd year EPE): Critical ethnographic case study of undocumented Latinx college students
Atota Halkiyo (1st year EPE): Mixed methods study of gender in/equity in Ethiopian higher education
Fourteen doctoral students submitted mini-grant proposals with budget requests up to $400 for items needed to execute their research. We were very impressed with the number of proposals submitted and quality of research that the doctoral students are engaged in. An eligibility requirement was that the projects be student-led, independent of their faculty advisor's research.
MLFTC faculty who were previously awarded research mini-grants served as reviewers; faculty were asked to rate proposals on:
clarity of overall research proposed (the extent to which faculty understand the research and its significance),
budget justification (reasonable request to execute research), and
originality of research given the student's advisor's research projects
We congratulate Stephen and Atota as the inaugural winners of this grant opportunity and hope to partner with TCDC in the future to support their research.