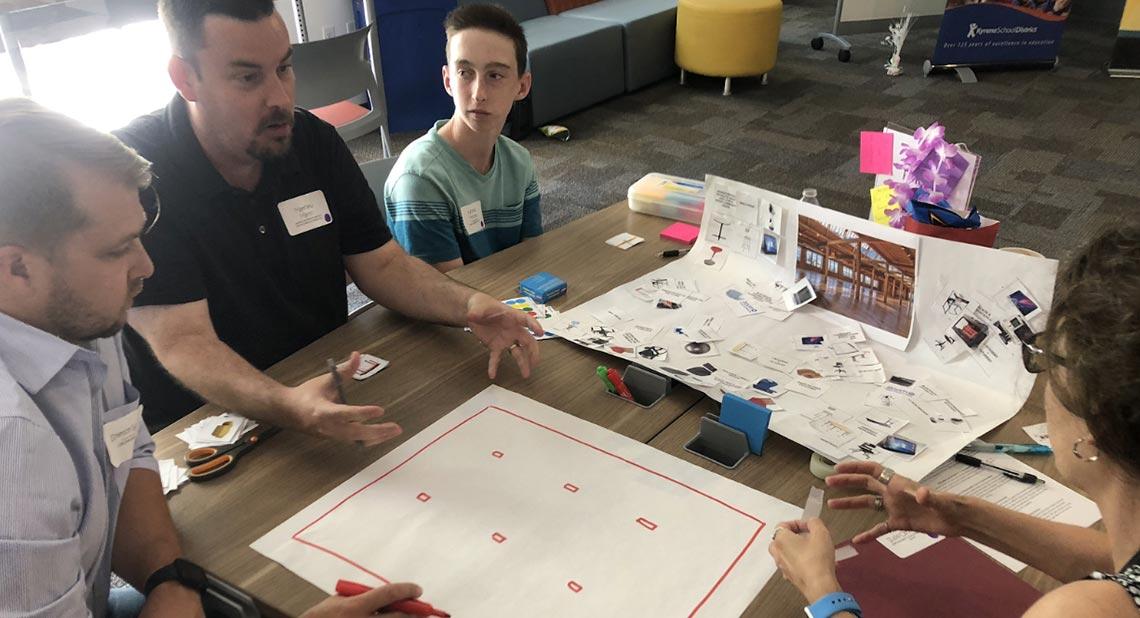 Over the last year, our Design Team at Mary Lou Fulton Teachers College has worked with Kyrene School District to imagine what is possible. Over ten months, we posed a question: If we took down everything we think we know about school – where it happens, who is there, the time of day – how would we redesign learning experiences for students?
In design thinking, we often use "How might we…" questions. A "How might we" question is powerful because it acknowledges the multiplicity of possible answers. There is not just one answer or solution to how we might design learning experiences. There are many. How might we design dynamic learning experiences for students and reinvigorate the teaching profession with newly crafted staffing structures? This is the question we posed together with our partners in Kyrene. Infinite possible answers exist, and our answers depend on the context.
Research tells us that students learn most effectively when they are actively engaged in learning. Students – people of all ages, actually – learn through making sense of the world, asking questions, and talking with others about their ideas. To be clear, there are many educators working every day to embed active learning experiences into their classrooms. But they are often working to fit new ways of learning into an antiquated structure. The structures of school – think of bells, scripted curriculum, instructional minutes, standardized testing – all get in the way. Going back to our "How might we" question, the question is NOT, How might teachers create dynamic learning experiences for students? Our teachers know how to create dynamic learning experiences and need fewer barriers in place to make those experiences more possible.
So our "How might we" questions are, How we might we take down the barriers that exist in classrooms and have existed over decades because changing the system is infinitely hard? How might we build a learning environment from the ground up if we had the incredible opportunity to design it from scratch? How might we allow students to become empowered learners who work together addressing real problems in the world? How might we make personalized pathways a central focus of learning rather than an add-on? How might we begin to build an environment that is focused not on students performing well on a standardized test, but on the learning that happens in students' lives every day?
These are big, bold, and to be honest, scary questions. We don't know some of the answers, especially the questions about how to change a system. That's messy and hard. Educators have pushed for change and innovation throughout America's educational history with varying degrees of impact. It's hard to change systems, and it's hard to change our culture's ideas about what it means to "do school."
While we don't have all the answers, we have some ideas grounded in research and experience, and we can begin to test them out. We need our experts – teachers and students – to try the model and figure out what works and what doesn't. We need to empower educators and students to make changes as needed, using their collective brainpower.
I could get into details about what the program model we've developed in Kyrene looks like, but I'll let you read more about it. We on the MLFTC Design Team are calling this a "prototype" year because the model is meant to be changed. Our educators and students, with support from us here at Teachers College, will work together over the next year and beyond to help the model grow and shift and evolve. That's a feature of the design, not a flaw. And how amazing it is for teachers and students to learn this way together?
How might we feel hopeful about the future of education? My answer today: Take a look at what we are trying in Kyrene.