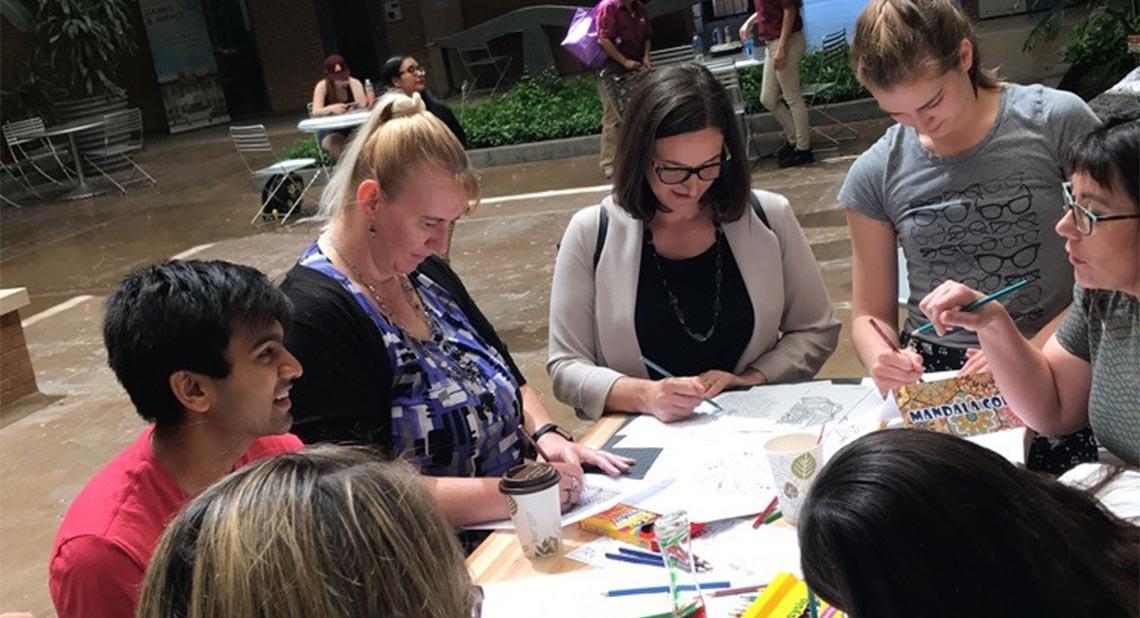 Recent concerns about our nation's mental health statistics and emerging research regarding the effects of early childhood trauma have caused an increased general interest in maintaining wellness and emotional health. This is especially important for our population of young people and future teachers. As a result, over the past year, the Mary Lou Fulton Teachers College has engaged in an integrated effort to focus on wellness.
Wellness is a cycle, a network and a culture. Supporting the wellbeing of educators helps educators as well as their students. Even beyond our students, this focus on wellness is holistic and applies to all of us–staff, faculty, graduate and undergraduates, their families and the university environment as a whole.
The "What's Brewing in MLFTC" series offered a structured time and space to promote an educational environment and culture of wellness. Social connections and cross-collaboration are key to wellness, and the series provided an opportunity for students, faculty, and staff to familiarize themselves with each other and the work within the college – with, of course, the extra bonus of enjoying coffee and bagels!
The two sessions on wellness were vastly different, and both were well-received. At the first event on February 26, students, faculty, and staff gathered in the IgnitED Lab in Farmer 144 to discuss ideas about wellness, mindfulness, and other related topics–sharing and brainstorming possibilities for their own lives, and for the college and university. This provided a platform to promote Wellness Wednesdays (a weekly MLFTC event focused on self-care strategies such as rock painting, nutritional demos, therapy dogs, yoga, and more) and to encourage faculty and staff to attend these events. Several MLFTC faculty members discussed how they currently integrate mindfulness practices in their personal lives and their classrooms. Brainstorming included wellness event ideas and ways to use technology, such as virtual reality and online apps to teach and practice wellness. It was a great conversation, where creative ideas were flowing and individuals made new connections.
The second "What's Brewing in MLFTC?" wellness session on May 24 took place in Farmer courtyard to draw in more attendees and offer a larger space to accommodate fun, playful interactive activities. These included mandala coloring, making stress balls, playing with kinetic sand, perusing children's books on mindfulness, and participating in informal, wellness-centered conversations. Attendees were given a tour of the planned wellness space on the first floor of Farmer and encouraged to vote on wall colors. This fall, the student lounge will be transformed into the "Zen Den", a "study-free" zone, specifically designed for relaxation, mindfulness, crafting, self-care activities, and wellness events. The student lounge will be relocated to Farmer 126, updated, and redesigned as a learning and studying space. Be on the lookout for forthcoming, exciting details.
Assistant Professor Danah Henriksen contributed to these two wellness sessions and is interested in wellness personally and professionally.