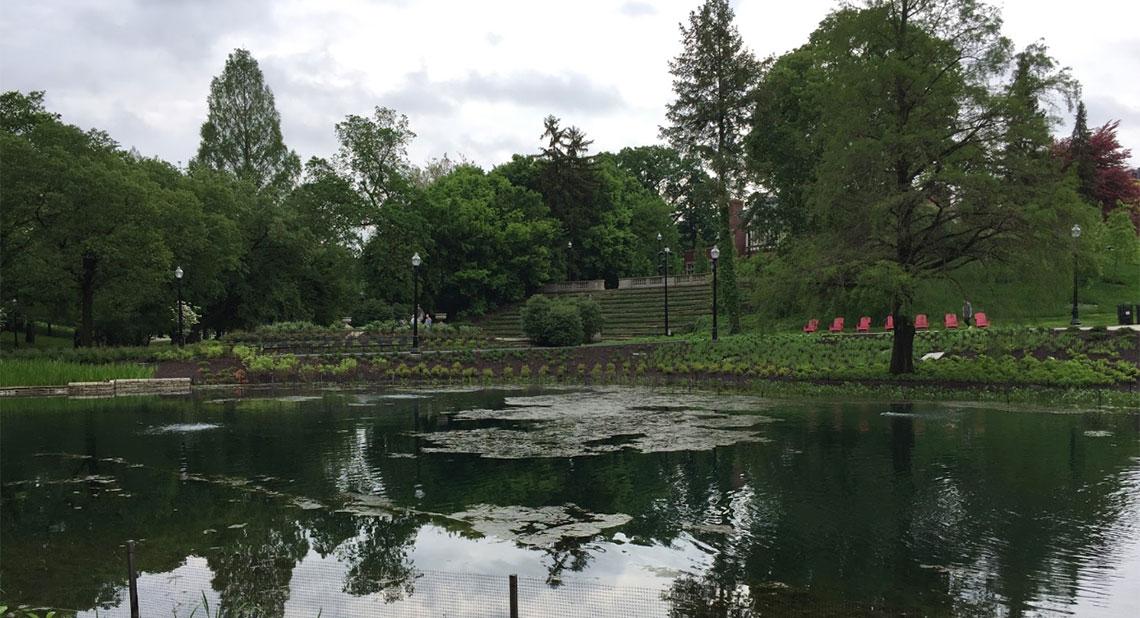 When you first see the title to this blog post, you might think that there's not much to say about Columbus, Ohio… and what does it have to do with our team? Well, there's a lot going on in that college town of ~900,000 people, including The Ohio State University's Office of Distance Education and eLearning (ODEE) annual conference, Innovate. A proposal by our team was accepted, so we packed our bags and headed to The Arch City.
I could write plenty about our conference session and the people that we met. (Side note: I met a bunch of really cool people from across the country doing incredible stuff; however, none of it is like what we do in our office.) Instead, I'd like to take the next few paragraphs to talk to you about getting to visit one of our team member's most favorite places on the planet and how it's impacted our team. It was my chance to practice the foundation of the human-centered design process – empathy.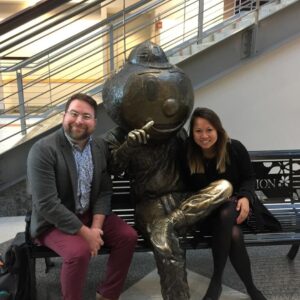 If you've met our Lead Design Strategist, Ben Scragg, you probably know that he is a two-time OSU alum and former ODEE-er. Ben's daughter was born at the OSU hospital and even has her own mini Brutus. So yeah, he's a very, very, very proud Buckeye. Visiting the campus and meeting his former colleagues was a huge eye-opener for me. He worked with some of his best friends for years. He and his wife rented their first apartment together there. They purchased their very first house just down the street from campus.
We took a trip down memory lane when we traveled to various places in Ben's work history, met with important and influential figures and co-facilitated a workshop session with him for other Buckeyes. It was a lot like Bill & Ted's Excellent Adventure, except we didn't have to worry about an exam, and neither of us plays in a rock band.
Our first stop took us to the Innovate team's preconference gathering. The bear hugs he shared with his friends would have brought tears to your eyes. We chatted with his former coworkers and joked about the funny stories we could share with each other about working with Ben. I watched as they exchanged stories about their partners and children. On the day of the conference, you would have thought R.L. Stine or Jesse Owens walked into the building (both are OSU alumni). I can't even try to count the number of people who greeted him with arms wide open.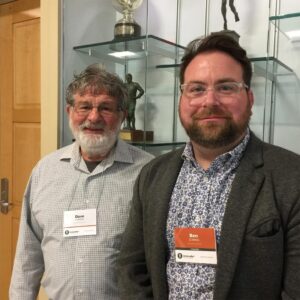 We had a very special guest in our conference session, "Intrapreneurial Instruction: Engaging Pre-Service Teachers as Changemakers through Design Approaches." Who might that be? BEN'S DAD. DAVE SCRAGG. And yes, he does look like an older version of Ben. You can check out the photo at the end of this post if you don't believe me. Just as excited, passionate and articulate, they are two peas in a pod I tell you what. On my final day of the trip, Ben drove me around Columbus to visit some of his favorite haunts, including North Market, a favorite of his and his wife, Marissa. We made a pit stop at a very special spice stand in the market to get some of their favorites to bring home. Ben wore his special Kickstarter shirt from Hot Chicken Takeover to get a free order of banana pudding. We stuffed ourselves silly and enjoyed lunch with one of his best friends from home. I myself bought a bag of whole bean coffee to bring home to Phoenix from his favorite coffee shop roaster.
So, why did I share all of that? Sometimes, we can get caught up in our own experiences and what's going on with us ourselves. This was a chance for me to experience his experiences and learn more about him as not just a colleague but as a human being. The design process is grounded in empathy and a better understanding of the experiences of others. It is only then that we can ideate, prototype, test and refine ideas that truly address the needs of others. I'm not trying to design any solutions for Ben or his life, but this adventure helped me better get him. And, I finally know what he's referring to when he namedrops all of the Columbus hotspots!