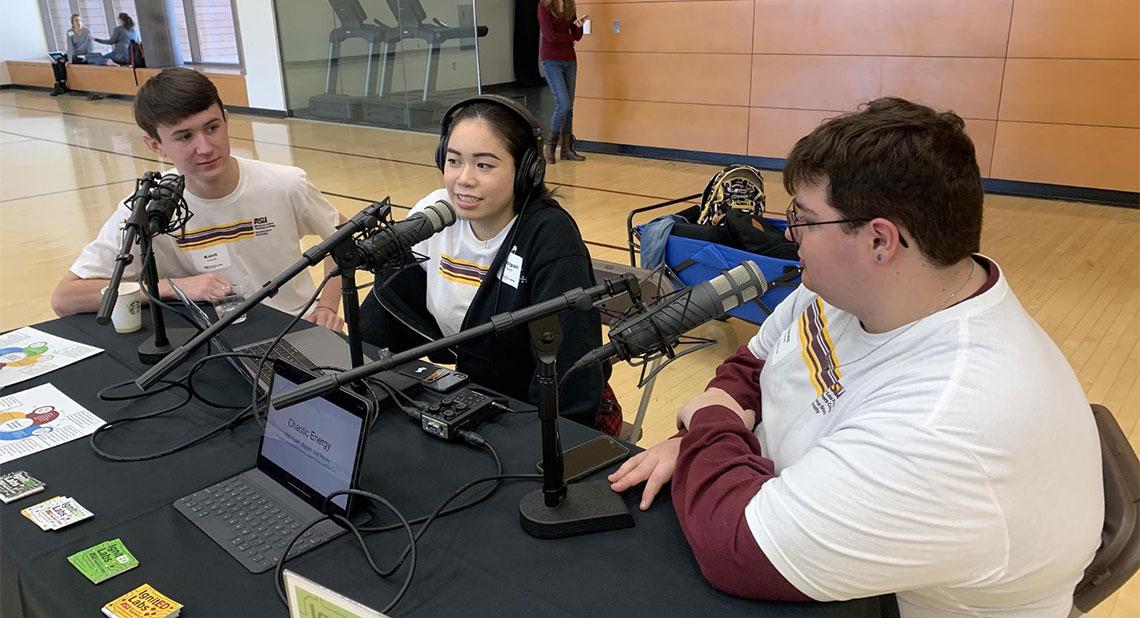 Future teachers use Chaotic Energy to showcase IgnitED Lab technologies, experiences during MLFTC's Innovation Day
Technology
Ronny Hoopes, Abigail Owen, and Kaleb Freund, first year MLFTC students, brought their podcast Chaotic Energy to Innovation Day on November 1.
The three are students in EDT 180 Technology Literacy: Problem Solving using Digital Technology Applications. Many course experiences in EDT 180 align with exploration and use of the emerging technologies within the IgnitED Lab. As a precursor to a large podcast project, this group was part of an in-class activity that required students to develop, record, and produce podcast segments in only a 75-minute time period. With limited equipment and podcasting experience, these students created an engaging and conversational podcast fitting somewhere within the genres of technology and comedy.
After recording and producing in class, some students used the multimedia recording studio and equipment in the IgnitED Lab to produce their lengthier, more in-depth podcasts. The staff in the IgnitED Lab provide students guidance and support as these education majors learn how technologies influence their learning and consider how their future students will approach the changes in education as a result of the ever changing technological options.
The focus of "Chaotic Energy" on Innovation Day was applying Principled Innovation to experiences in the lab as well as teaching and learning. They delved into ethical issues related to artificial intelligence and its use in education and 3D printing concerns. They also talked about the benefits of emerging technologies, especially for students who may not find success in traditional classroom settings. Although the team is still working on distribution plans for the podcast, covering these pivotal topics is an example of the authentic efforts created by talented educational advocates within the college. These first year students are elevating their learning by addressing Principled Innovation related to technology and considering implications for their future students.
This post was originally published on the IgnitED Labs website and has been included here with permission.