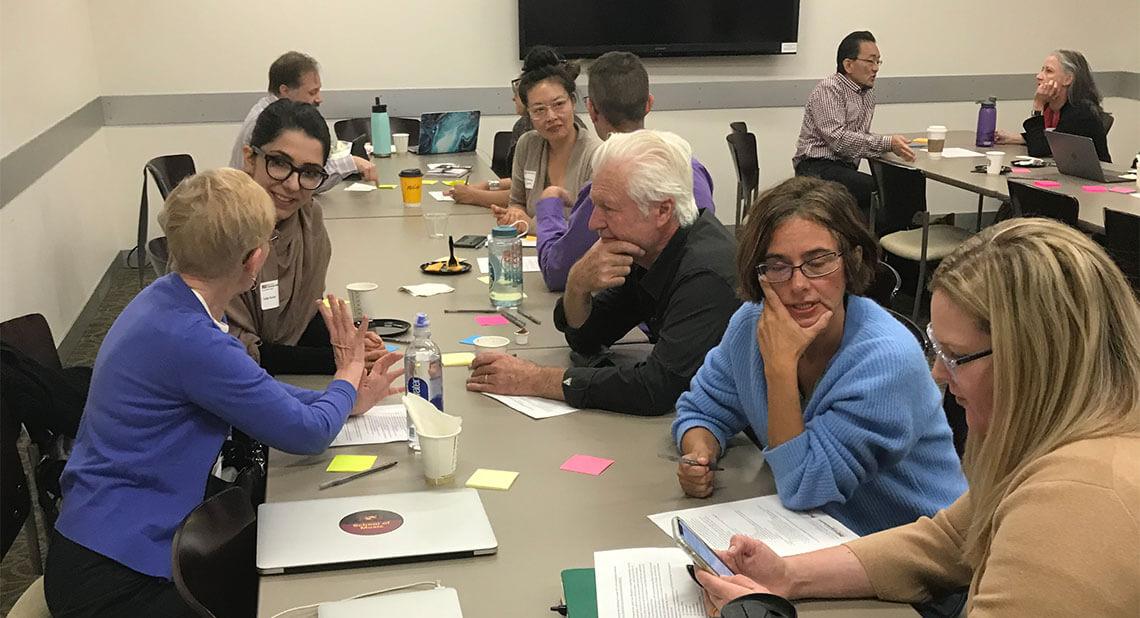 Education and the arts are deeply connected. As the philosopher William James wrote in his book Talks to Teachers:
Psychology is a science, and teaching is an art; and sciences never generate arts directly out of themselves. An intermediary inventive mind must make the application, by using its originality.
It is no surprise, therefore, that MLFTC and the Herberger Institute for Design and the Arts (HIDA) recently partnered to offer an internal seed grant opportunity that would bring together faculty from both colleges to work together on research projects. The grant explicitly supported interdisciplinary research between collaborative teams consisting of at least one faculty member from MLFTC and HIDA. And of course, these seed grants, hopefully lead to external funding opportunities down the road.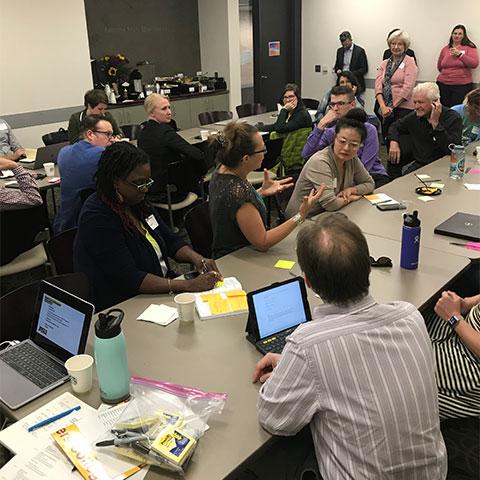 To kick off the internal competition, MLFTC and HIDA hosted an education + arts and design research mixer. Over 25 faculty members from both colleges participated in the mixer and helped identify areas of overlapping and complementary research interest.
This led to several proposals (sadly more than could be funded) which were internally peer reviewed by a group of faculty from both colleges. Four projects were ultimately selected for funding, which will be conducted throughout 2020. We would like to thank all the faculty who participated (either in submitting or in reviewing proposals). Stay tuned for a public forum on the project outcomes and potentially more such inter-college seed funding opportunities.
The funded projects are briefly described below.
Suren Jayasuriya, Mirka Koro and Nadia Kellam: Foucauldian Care of the Self in an Integrated STEM and the Arts Program for LGBTQIA+ Individuals
In this qualitative research project, we will uncover understandings of structures of (in)equality and power for LGBTQIA+ students through engagement with a transdisciplinary arts-based engineering program. In particular, we are proposing two integrated streams of research: (1) analyzing personal experiences with LGBTQIA+ students integrating STEM and the arts, and (2) exploring care of the self during digital media workshop, an idea originating from the philosopher Michel Foucault, and how care of self could act as a resistance/mitigation/coping strategy in the presence of marginalization and power. At the successful completion of this project, we will have learned about multiple pathways to care of the self and the role of arts assisting LGBTQIA+ engineering students to resist, mitigate, and engage in care of the self and cope with marginalizing or oppressive power situated in the context of thinking and doing with art.
Michelle Jordan, Evan Tobias, Steve Zuiker, Ruth Wylie and Clark Miller: The Weight of Light: Reasoning and Imagining with Present and Possible Energy Systems
The Weight of Light (WoL) project will design learning opportunities for middle and high school youth to imagine possible futures for their communities while increasing interest in and awareness of energy challenges and the role STEM plays in transforming local and national energy systems. Specifically, the project will build on the strengths of HIDA, MLFTC and beyond to engage youth in creating multimodal solar energy futures narratives as a means of identifying with STEM and increasing agency for engaging STEM practices for social purposes. WoL will develop events and programs for youth to learn about socio-technical aspects of solar engineering and apply this knowledge to envisioning future possibilities for themselves and their community. Participants in a spring design sprint and summer program will create original stories, music, visual art, and essays – supported by educators, artists, learning scientists, and solar energy experts with experience fostering youth creative voice and agency. Using design-based research, the project will document and analyze participation in terms of socio-cultural frameworks that characterize forms of consequential learning. In designing and testing WoL activities, the WoL team will explore how youth exercise agency while identifying with and contributing to STEM endeavors.
Eugene Judson and Philip Klucsarits: Promoting Aspirations in STEAM through Social Capital, Art, Relationships, and Doing (PASSCARD)
Our objective is to dramatically increase the likelihood of children of refugee backgrounds in the Phoenix metropolitan area to pursue career paths in science, technology, engineering, arts, and mathematics (STEAM). To meet this objective, we will propose a four-year $1.5 million cohesive and viable project to the National Science Foundation's (NSF) Improving Technology Experiences for Students and Teachers (ITEST) program. Therefore, seed funding is requested to support a three-part planning/seed project comprised of (a) facilitated planning among multiple partners (i.e., a planning and learning community), (b) exploration of best use of innovative digital storytelling methods, and (c) development of a proof of concept role model video. Seed funding is a critical first step in developing this project, Promoting Aspirations in STEAM through Social Capital, Art, Relationships, and Doing (PASSCARD).
Steve Zuiker and Cala Coats: Green STEAM Studios: Designing Agential Ecologies for Wonder, Curiosity, and Interconnectedness through School Gardens
Interest in STEM education across the PK-16 landscape has reinvigorated questions about art's pedagogical potential to shape scientific inquiry, namely introducing STEAM as an increasingly common curricular framework. Green STEAM Studios will explore the coupling of scientific and artistic inquiry by designing opportunities for elementary school classes to engage with natural environments integrated into school settings. Looking to contemporary artists as inspiration, this project is an innovation on frequently used STEAM projects. Boundaries between the arts and sciences are blurred, as contemporary artists and designers utilize scientific processes as their primary art practice (Dunne and Raby, 2013; Weintraub, 2012). The aim of this project is two-fold: (1) to develop a set of studio processes that invite curiosity and wonder through interest-driven inquiry with an emphasis on established practices and sensorial cognition, investigating the possibility of expanding learners' agential capacity; (2) to design, develop, document, and disseminate curricular innovations that advance STEAM models through the activation of science and art as integrated processes. This project will build on the strengths of garden-based learning by using arts-based methods that emphasize sensorial cognition to expand STEM/STEAM education models.