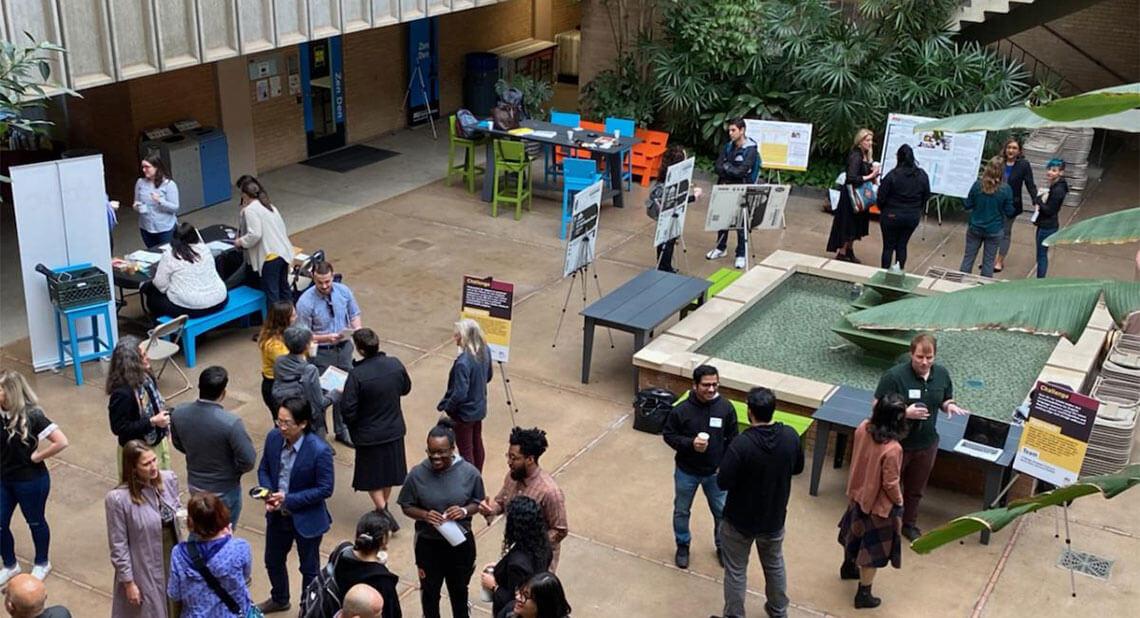 The 6th annual Teachers College Doctoral Council (TCDC) Education Research Conference was held on Friday, February 28th, 2020, and for the second year in row, the Office of Scholarship (OofSI) partnered with TCDC to recognize the important research of both our graduate students and faculty at MLFTC. This annual event is one of the few times some of our faculty and doctoral students have to meet one another and learn about various education research that others at the college are engaged in.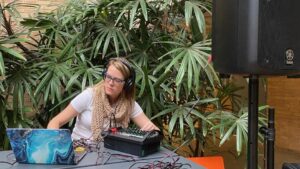 The morning started out with a joint poster session to feature the ongoing research of the 2019-20 faculty internal research grant recipients, as well as graduate students. The Farmer building atrium was lively with a great turnout of faculty, students, and staff, who enjoyed breakfast, coffee, and even some music "deejayed" by yours truly. Faculty poster session participants included: Katie Farrand, Pamela Kulinna, Carrie Sampson, Melanie Bertrand, David Garcia and Steve Zuiker.
After the poster session, two rounds of breakout sessions featured student paper presentations. Prior to lunch and keynote speaker, I was pleased to announce the recipients of the doctoral research mini-grant awards on behalf of OofSI. For the second year, OofSI offered this funding opportunity for doctoral students to submit proposals with budget requests up to $400 to support student-led research projects independent from their faculty advisors. The proposals were reviewed and scored by faculty mini-grant recipients. This year, the top four proposals scored so closely, we were thrilled that Mirka Koro, director of doctoral programs, was able to provide some additional fellowship funds which enabled us to award $250 to the projects which ranked third and fourth. The recipients and their awarded project titles were: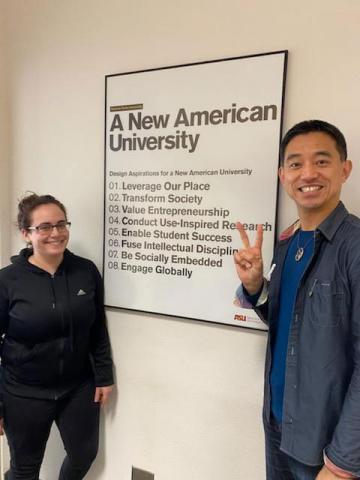 The conference closed with a keynote from the newly minted Dr. Stephen Santa-Ramirez, from in the Educational Policy and Evaluation doctoral program. Stephen, who received a mini-grant last year for his dissertation research on the lives and experiences of undocumented Lantinx students attending a large public university in the southwest United States during the Trump era, talked to fellow doctoral students, faculty and staff about his educational journey. Stephen titled his talk, I belong, you belong, and we matter.
His reflection was candid, calling out the many obstacles and challenges he experienced, and when speaking about the co-collaborators in his dissertation research (his intentional framing of participants as collaborators in the research speaks to his commitment to equity) it served as the appropriate reminder to all about the various paths students have taken to get to the university, and certainly not all were easy, fair, or without sacrifice. And even more relevant now since the time of Stephen's talk, is the fact that many students are uncertain about what opportunities they will have upon leaving the university.
Stephen's commitment towards equity, from the design of his study and his methodological approach, are good reminders to all of us conducting research, supporting students in their research, and also for those who are training and mentoring doctoral students. He ended his keynote with this statement:
I say this to all, and especially for those of us who take up space in the academy that wasn't built for us in mind, our presence, our ideas, and our work matters. Always remember the shoulders that have lifted you and that you stand on, say thank you to the mentors who have helped and continue to assist in you reaching your personal, academic, and professional goals, and continue working towards a more equitable society for those who share similar identities and lived experiences to yours…and those who do not.
Rarely do any of us do research in isolation, and it is important and uplifting to remember and acknowledge those who have helped us, supported us, and mentored us, and also think about the ways we can support and help others with their research.