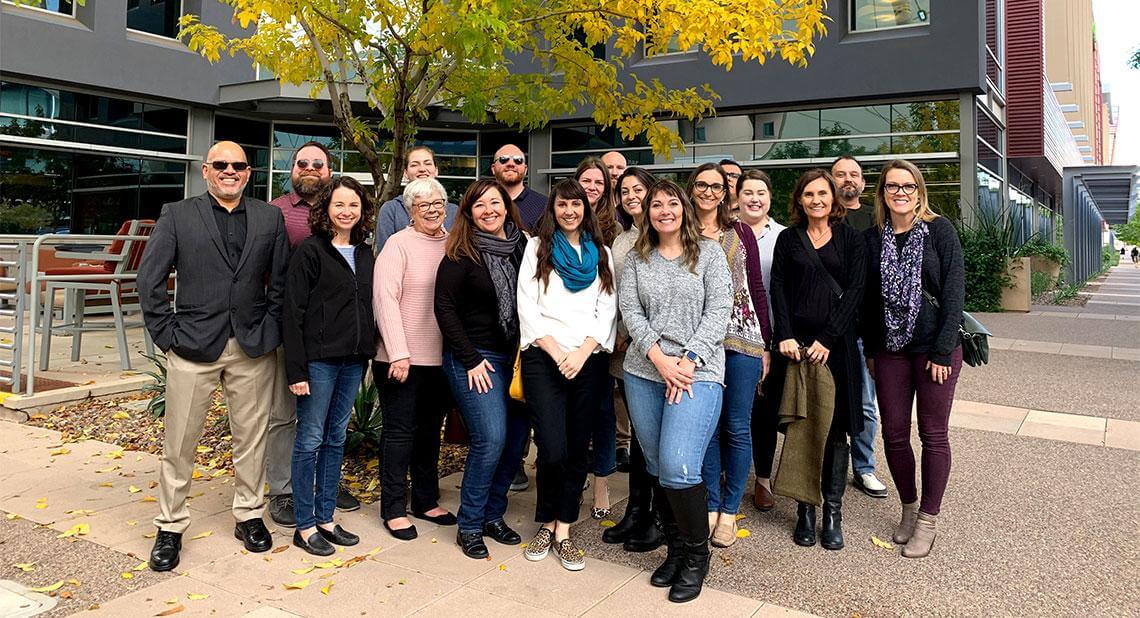 It's hard to believe it's already the middle of December! Here in our office, we like to take the time to reflect on what we've accomplished at the end of the year. Last Monday, we held our annual team retreat at SkySong to do just that—this time with the added bonus of the Principled Innovation team.
We started off our morning with Michael Rohd (for the third year in a row!) who had us talk about our work with some reflective prompts—for example: "I love my job most when…", or "something I find challenging in my work is when…". Then, Punya and Cristy took time to share the vision for our work going forward as our two teams–the Office of Scholarship and Innovation and the Principled Innovation team–begin working more closely together. (Unrelated: I think we should collectively be known as POofSI–"Principled Office of Scholarship and Innovation" but I'm the only one. So far. It's catchy, right?)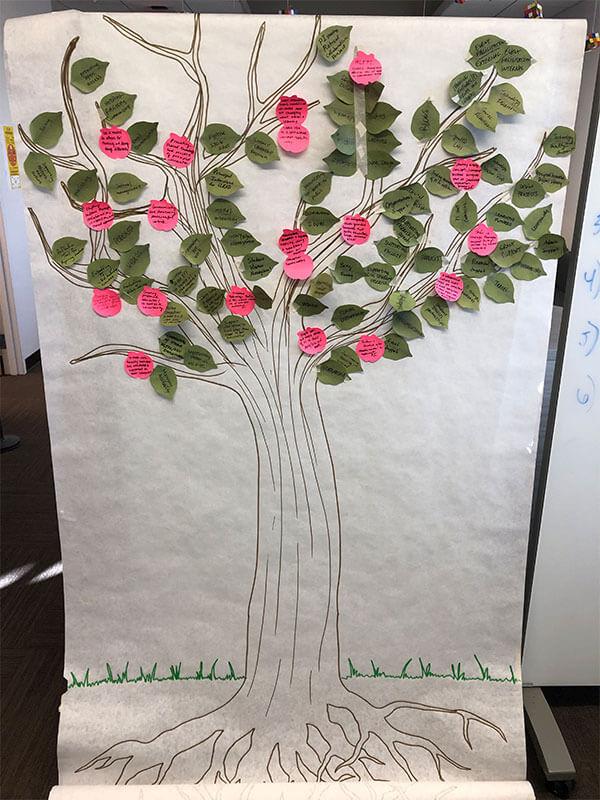 As a part of this collective sense-making with Punya and Cristy, we built a tree together out of paper and sticky notes–some of which were leaf- and fruit-shaped. (Shout out to Cassandra, who took the time over her weekend to draw us an awesome looking tree with branches and roots. Also, would it even be a retreat without sticky notes?). Starting at the roots, we wrote out the values we thought were foundational to our work, while on the trunk we posted habits and norms that guide our individual and collective work. For the leaves, we wrote out actual projects, initiatives, and types of work we are engaged in, and finally the fruits of our labor–what are the best possible outcomes of the work that we do?
After lunch, we got back into the swing of things by looking back on all we've done over the last year, sharing what each team had accomplished and the ways our work has impacted others. We then split up into teams and set goals for the next year, following which Courtney led us in individual goal-setting. This was a fun way to look at what we wanted to accomplish over the next 12 months, because the prompts Courtney gave us were really unique:
How do you want to feel at the end of next year?
What new skills do you want to learn?
If you knew this was your last year on the team, what would you want to accomplish?
We finished the day with an exercise in gratitude, taking the time to thank everyone who participated in the day, and appreciate the work we do together.
A lot has changed in our office in the past year, as we've said goodbye to colleagues who have moved on to new endeavors, and welcomed even more teammates into our office. We've begun collaborating more with the Principled Innovation team, and we're really excited about what's coming up for us in the next year.
Just like our retreat, I'll finish this post with a little gratitude, and I think I speak for the whole team when I say how thankful I am to work with such kind, funny, and creative people every day. I'm thankful for another year with them all, and I can't wait to see where we go next.