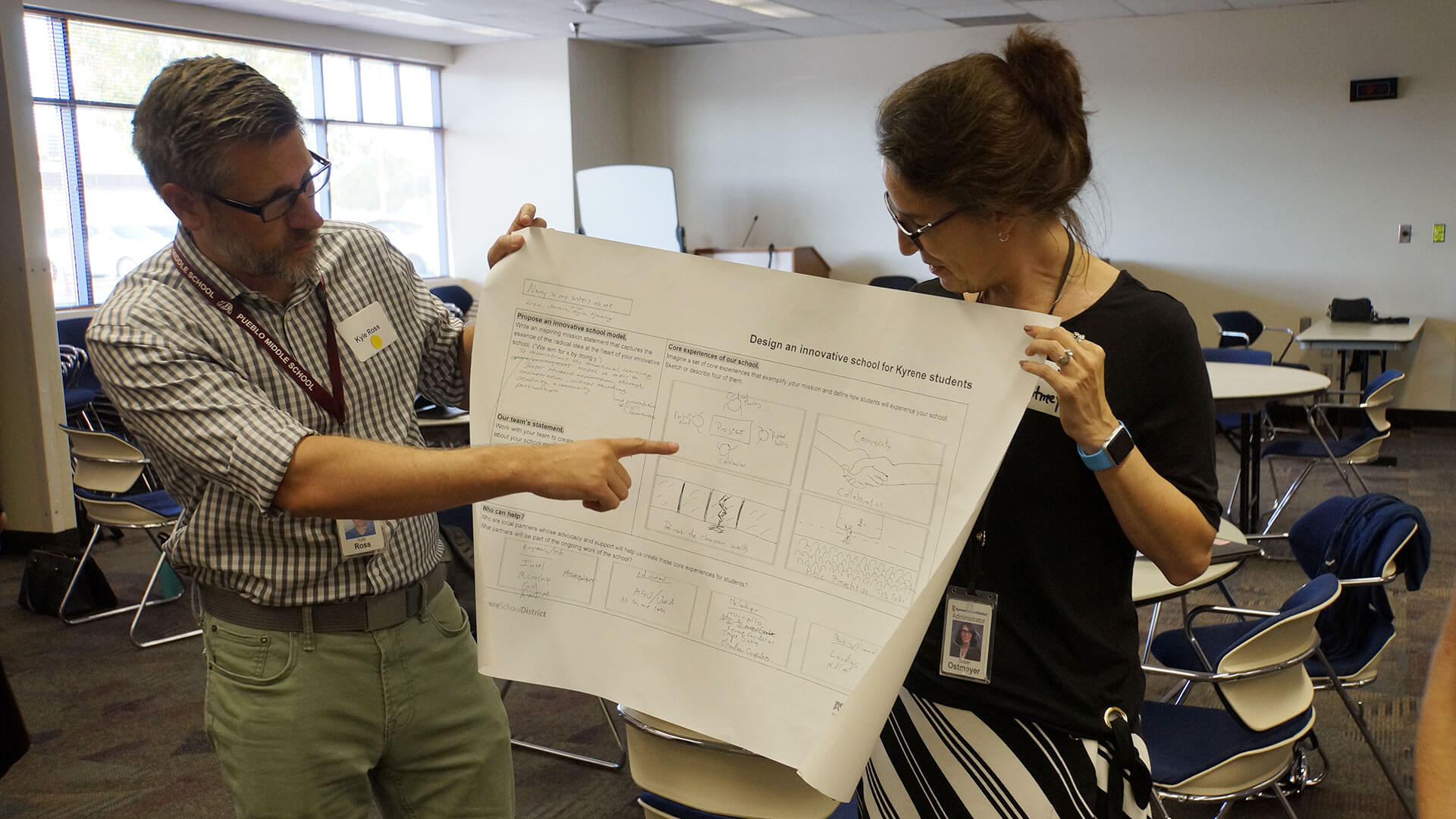 Community design lab: Kyrene SPARK school
Our Design Initiatives team partnered with Kyrene School District to lead a design process to develop a new school model.
Backstory
In the summer of 2017, our team at Mary Lou Fulton Teachers College (MLFTC) began conversations with district leaders at Kyrene School District about how we might work with Kyrene stakeholders to design new learning opportunities for students. Following conversations with Dean Carole Basile and Dr. Punya Mishra, Superintendent Dr. Jan Vesely articulated two goals for the district's work: design dynamic learning experiences for students, and reinvigorate the teaching profession with newly crafted staffing structures. Our team enthusiastically took on the partnership.
https://www.youtube.com/watch?v=0uwfrEluPyM
The partnership kicked off in November 2017 with team-building activities and an introduction to the project's goals and design process. At the end of the session, the 40 participants, which included Kyrene teachers, principals, district administrators, parents, business partners, and ASU staff and faculty, indicated their interest level for continued involvement. A Core Design Team was established, and this team committed to monthly meetings with additional research activities between meetings.
What we did
Inspiration
In the winter and spring of 2018, the Core Design Team worked to understand the perspectives of varied Kyrene community members about school and their hopes for their school community. The MLFTC Design Initiatives team met with members of both the Kyrene Business Alliance and the Kyrene Parent/Superintendent Council to gather their ideas, concerns and hopes for the future of education. In addition, approximately 35 members of the Kyrene Student/Superintendent Council visited the ASU Tempe campus to participate in focus groups. Students shared their insights about school experiences, reflecting on what types of experiences best support their learning and the ways they learn in non-academic settings. To more deeply understand the daily experiences of students, Core Design Team members spent a full day shadowing students in Kyrene schools. The input from all these sessions was gathered and shared among Core Design Team members.
I want students to think of themselves as lifelong learners who are interested in the world and can't wait to dive in and explore it.

Core Design Team member
Throughout the spring months, the Core Design Team explored existing models for innovative learning environments and found inspiration in other contexts, including health care models. In June, several members of the team visited the High Tech High network of schools in San Diego to learn about their approach to project-based, equity-driven, experiential learning.
https://www.youtube.com/watch?v=eE61YvYTG9Q
Ideation
During summer 2018, the Core Design Team synthesized their research and insights into five Design Principles for the new school model: equity & inclusion; student-centered learning experiences; educators as designers and facilitators; culture of community, care and collaboration; and transformative learning spaces. These Design Principles acted as a foundational guide and anchor for the ideation phase.
In July 2018, MFLTC hosted a full-day design charrette at ASU SkySong with the goal of further brainstorming and defining possibilities for the new school model. A broader group of Kyrene stakeholders, including teachers, parents and students, joined the Core Design Team to explore what a school centered around the Design Principles would look like.
During a "Wild Ideas" ideation sprint, individuals considered what form school might take if our current barriers and constraints did not exist. Three big ideas emerged: students should have more choice about what, how and when they learn; students need opportunities for increased movement in flexible, inviting spaces; and students should be empowered to engage in authentic work, including projects that impact their community and world.
Participants also had an opportunity to re-imagine classroom staffing models, considering how a team of educators might surround a group of students to better meet students' needs. Participants discussed part-time and full-time roles that could be leveraged to support students and considered how credentialed teachers with varied expertise and experience might work together to support each other, possibly creating leadership pathways for highly effective teachers.
To close the day, participants reimagined the physical learning environment, including furniture, spaces and resources. Participants offered that learning could take place outside of normal school hours and outside of school walls, and that students would benefit from increased interactions with local communities.
https://youtube.com/watch?v=kcoQkN9ViQI
Planning for Implementation
In fall 2018, the Core Design Team built upon the Design Principles and the July 11 design charrette outcomes to consider how these ideas might be put into practice in Kyrene. The Core Design Team focused on four main areas: pedagogy and curriculum; staffing; operations; and the physical environment. Core concepts emerged: inquiry-driven, problem-based learning; extensive opportunity for student choice and movement; a collaborative team of educators, including a highly-qualified and credentialed "Executive Designer" and community volunteers; and multi-aged student groupings.
As the model became more defined, the Core Design Team and Steering Committee explored how we might prototype and test our ideas. We discussed testing individual components of the models in different schools but determined that testing components separately would make it difficult to evaluate efficacy and make appropriate adjustments.
After extensive discussion, the Steering Committee proposed launching a small pilot program within an existing school in fall 2019. A small opt-in program would allow for quick iterations, continuously refining and adjusting the new model during the pilot year. At this point, a larger group of KSD district leadership began the work of seeking Governing Board approval, granted in March 2019, and preparing to launch the pilot program at the Kyrene de las Manitas campus.
Impact
The pilot program launched as a school-within-a-school in the 2019-20 school year with 75 students in third and fourth grades. Named SPARK, the program is located on the Kyrene de las Manitas campus, centrally located within the Kyrene district. A team of educators, which in the first year included three credentialed teachers and three MLFTC teacher candidates, support the full group of students and collaboratively design and lead learning experiences. In the 2020-21 school year, the school expanded to add fifth grade and took in a new cohort of third graders. The district is looking ahead to possibilities for future expansion. Read more about the school on MLFTC's Next Education Workforce site and on Kyrene's SPARK School website.
https://www.youtube.com/watch?v=SQVGoQCG5zk
Quotes
...I hope there will be a spirit of experimentation, a true culture of caring, an open-mindedness that will enable the teachers to learn and grow in their craft as educators, just as the students learn and grow.
Change is hard for many, and the concept of school, especially, and what it looks like is near and dear to many people.
I hope students in our school will leave the learning environment every day with their minds filled with new learning that fuels them and excites them to the degree that they can hardly wait to return the next day.
Partners
Kyrene School District
Date
2017-present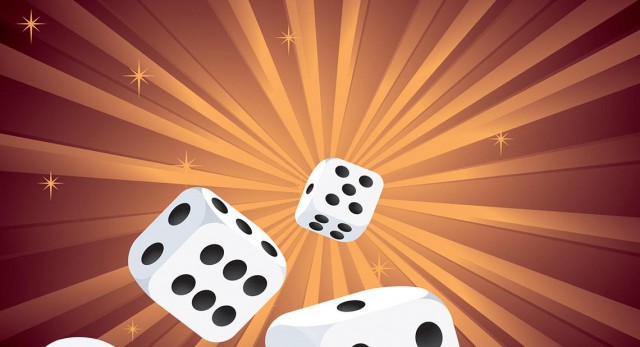 The School Design Game v 1.0
The journey of design is complicated, filled with conundrums —some expected, others not so much. There are many possible strategies to address them as we iterate our way to the finish line.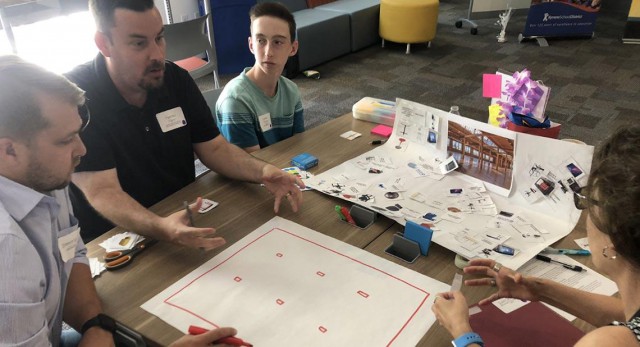 Breaking down barriers
Over the last year, our Design Team at Mary Lou Fulton Teachers College has worked with Kyrene School District to imagine what is possible.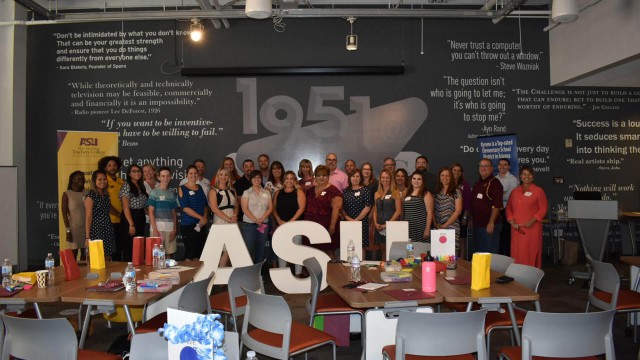 Kyrene design charrette recap
Where there's a will (to be wild), there's a way.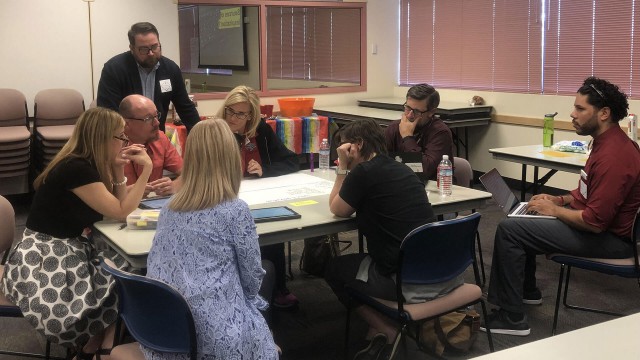 In Kyrene, Design Team plans to shadow students for a day
The Kyrene-ASU Design Team is making plans for each team member to spend a day shadowing a student in the district in order to develop empathy and a deeper understanding of what school is really like from the students' perspective.
Slice of PI podcast
This podcast showcases the work being done within Mary Lou Fulton Teachers College with an eye to Principled Innovation. The show examines the process of changemaking -- not just the neat and polished side, but the messy realities of innovation as well. Each episode features faculty, staff and/or students, and delves into a different area of work within the Teachers College.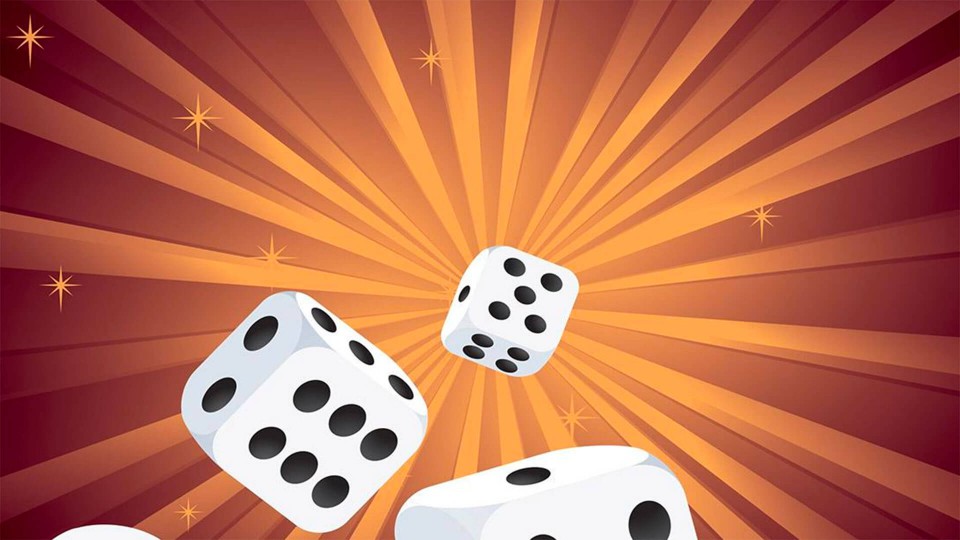 The School Design Game
Engage groups of educators in a game that simulates the possibilities and pitfalls of using the design process in a school setting. This game promotes thoughtful discussion and highlights various design-based solutions throughout the stages of a design process: Inquire, Imagine, Iterate, Communicate, and Connect.